Pest Control - Washington, Mo
Pest Control Services in Washington, Mo
Steve's Pest Control Hours & Location
Missouri's Most Reliable Pest Control Services in Washington, Mo
Stay one step ahead of unwanted pests with Steve's Pest Control. Offering residential and commercial extermination services throughout Missouri, our team of experts have experience in removing bed bugs, termites and other creepy crawlers that find their way into your home or business. 
Since 1988, our independent, family-owned and operated business has been offering extermination and pest control in Washington, Mo. We don't believe in a one size fits all plan, but provide personalized pest control services to ensure your home or business is rid of pesky critters for good. Not sure where to begin? Call our team for a free pest evaluation today!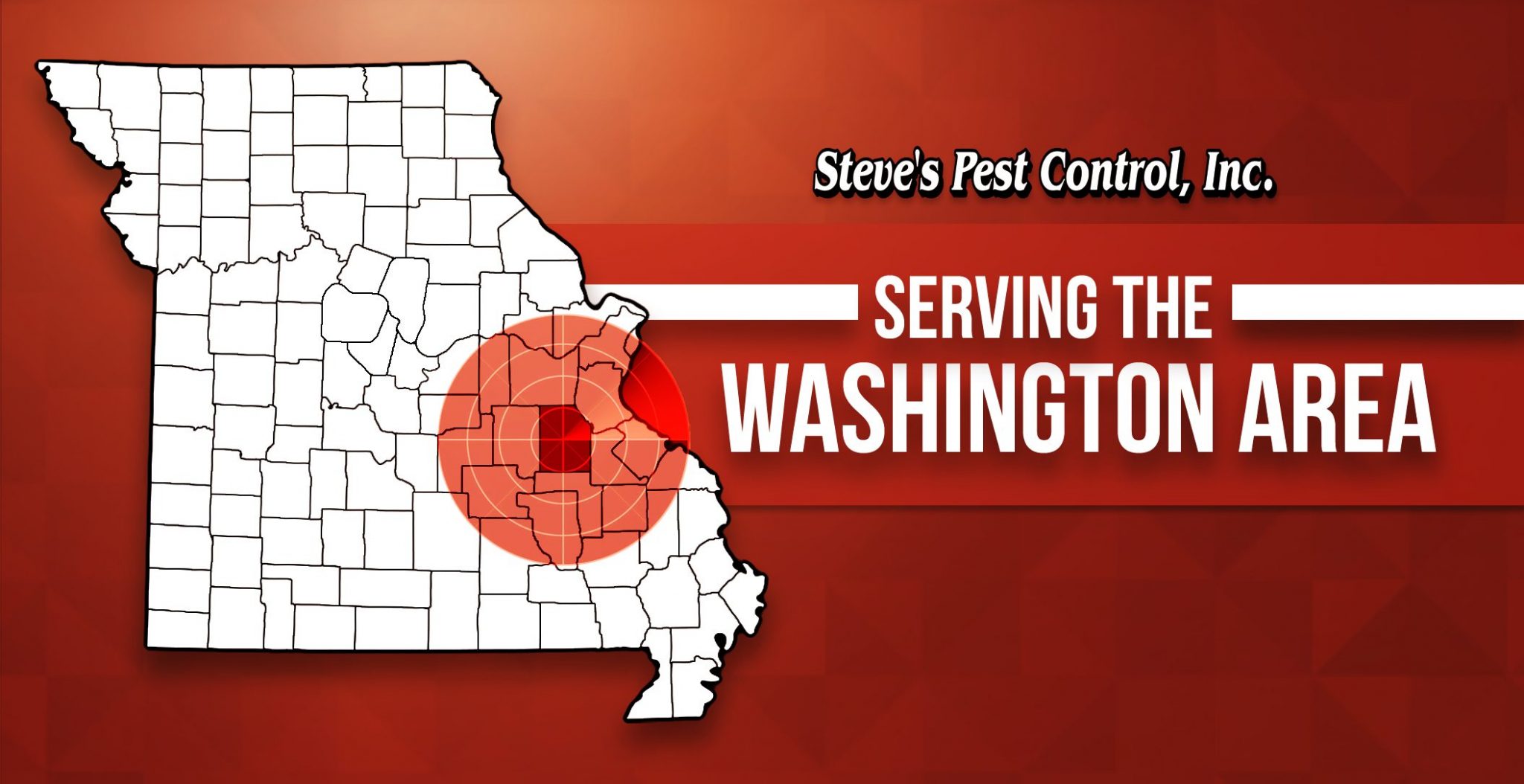 Residential Pest Control Services and Bed Bug Exterminator in Washington, Mo
Have you recently walked into your home and been greeted by a bug, rodent or unwanted critter? Call our team of exterminators today! Protecting your family and home is our number one priority! Regional experts in removing pesky critters like ants, cockroaches, termites, mice, spiders, and other insects from your home, Steve's Pest Control works hard to rid your home of unwanted guests. 
Not only removing unwanted pests, but our residential services also offer proactive pest control plans in Washington, Mo to ensure no critter gets close to hitting your walls. Ask our team about our 5-Star Services and how we can help you prevent pests from overrunning your home!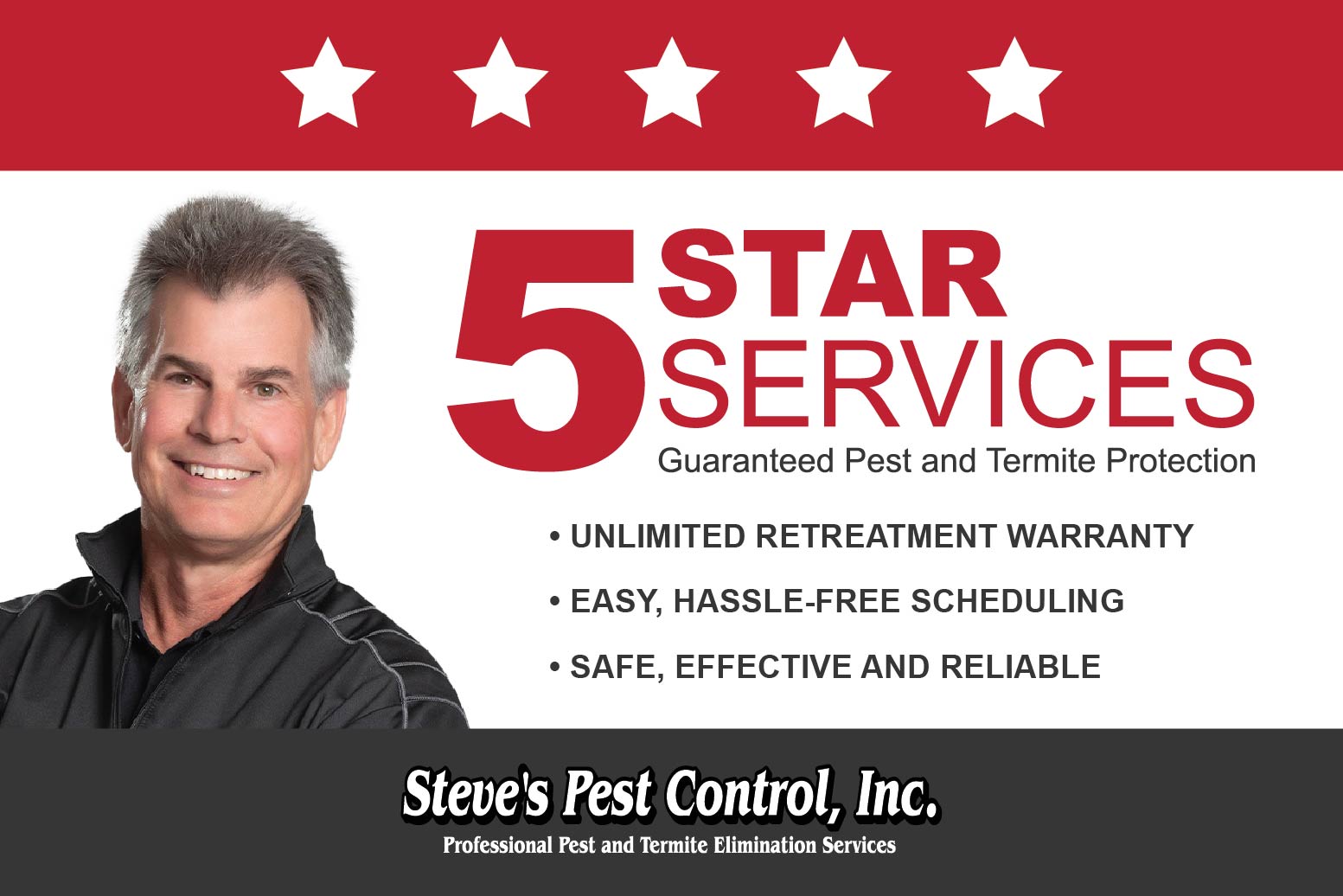 How to Tell if I Have Bed Bugs in Washington, Mo
Nobody wants to share their bed with unwanted guests. One of the most common home invaders, bed bugs, are nocturnal creatures with an average lifespan of 10 to 12 months. Difficult to spot and remove, these hitchhiker pests can be found in more spots then just beds. If you are concerned about bed bugs in your home, examine your home for the following signs:  
Rust or dark-colored spots on mattresses or near other small crevices.

Mildew or musty smells near colonizations. 

Small red, bite marks on exposed skin, specifically ankles and neck.
Give us a call today if you need a bed bug exterminator in Washington, Mo! Our experienced team of exterminators use heat treatment technology to remove bed bugs from your home. By reducing the use of harsh chemicals, our team can eradicate your home quickly allowing you to safely return home without the fear of bed bugs harming you or your family. Still not sure whether bed bugs have taken over your home? Download our bed bug guide today to learn more! 
Commercial Pest Control Services and Termite Exterminator in Washington, Mo
Are unwanted cockroaches, termites, rodents or other creepy crawlers running off your customers? Eliminate your pest problem today with Steve's Pest Control! Having experience in exterminating a variety of industries including restaurants, bars, hotels and motels, college campus facilities, daycares, warehouses, offices and more, our expert exterminators in Washington, Mo provide you with a variety of commercial pest control services. 
Not sure what pests are overrunning your mid-Missouri business? No worries, with a free pest evaluation our team can help you establish a pest control plan to ensure your business is pest free in the future! Call us today to learn more.
How to Tell if I Have Termites in Washington, Mo
Termites are destructive critters, often inevitable when living in mid-Missouri. They quickly cause costly damage to homes and businesses across Missouri due to them breaking down and weakening the structural wooden material. Removing termites quickly is essential! Inspect your home or business for termites by looking for the following signs: 
Changed texture or density in the wood structure of your home or business. 

Rattling within the walls. 

Small holes in the interior or exterior walls of your home or business. 
If you are concerned about termites overrunning your business, call our experts to learn about our termite protection plan. Whether you are in need of a termite exterminator in Washington, Mo or not, our team is here to help you be proactive and prevent future damage to your home or business. Call today to learn more. 
Protect your home or business from long-term damage. Call Steve's Pest Control today at (636) 231-7900.
Pest Control Services Areas By Zip Code:
63090, 63332, 63013, 63342, 63039, 63055, 63056, 63357, 63068, 63365, 63073, 63077, 63378, 63084, 63089
Proudly Serving Washington, Mo and Surrounding Areas:
Union, Villa Ridge, Marthasville, Augusta, Gray Summit, New Haven, Saint Clair, New Melle, Pacific, Gerald, Foristell, Wright City, Wentzville, Rosebud, Eureka, Sullivan, and Warrenton
Steve's Pest Control Washington Area - Learn more!
Get a Free Pest Evaluation
Why Choose Steve's Pest Control?
Steve's Pest Control is dedicated to a certain level of excellence in all of our pest control services. We want each and every one of our customers to have the best experience with us possible. To ensure we do a good job every time, we practice the utmost care and professionalism with each and every pest control project we do.