Pest Control - Warsaw, MO
Pest Control Services in Warsaw, MO
Steve's Pest Control Hours & Location
Mid-Missouri's Most Reliable Pest Control Services in Warsaw, MO
Are bed bugs, termites and creepy crawlers overtaking your home? Call Steve's Pest Control in Warsaw, Mo. Offering extermination and pest control services in Warsaw, Mo since 1988, our experts can help you with your critter problem. Whether you need residential or commercial pest control services in mid-Missouri, we guarantee personalized extermination services. Call our experts today for a free pest evaluation.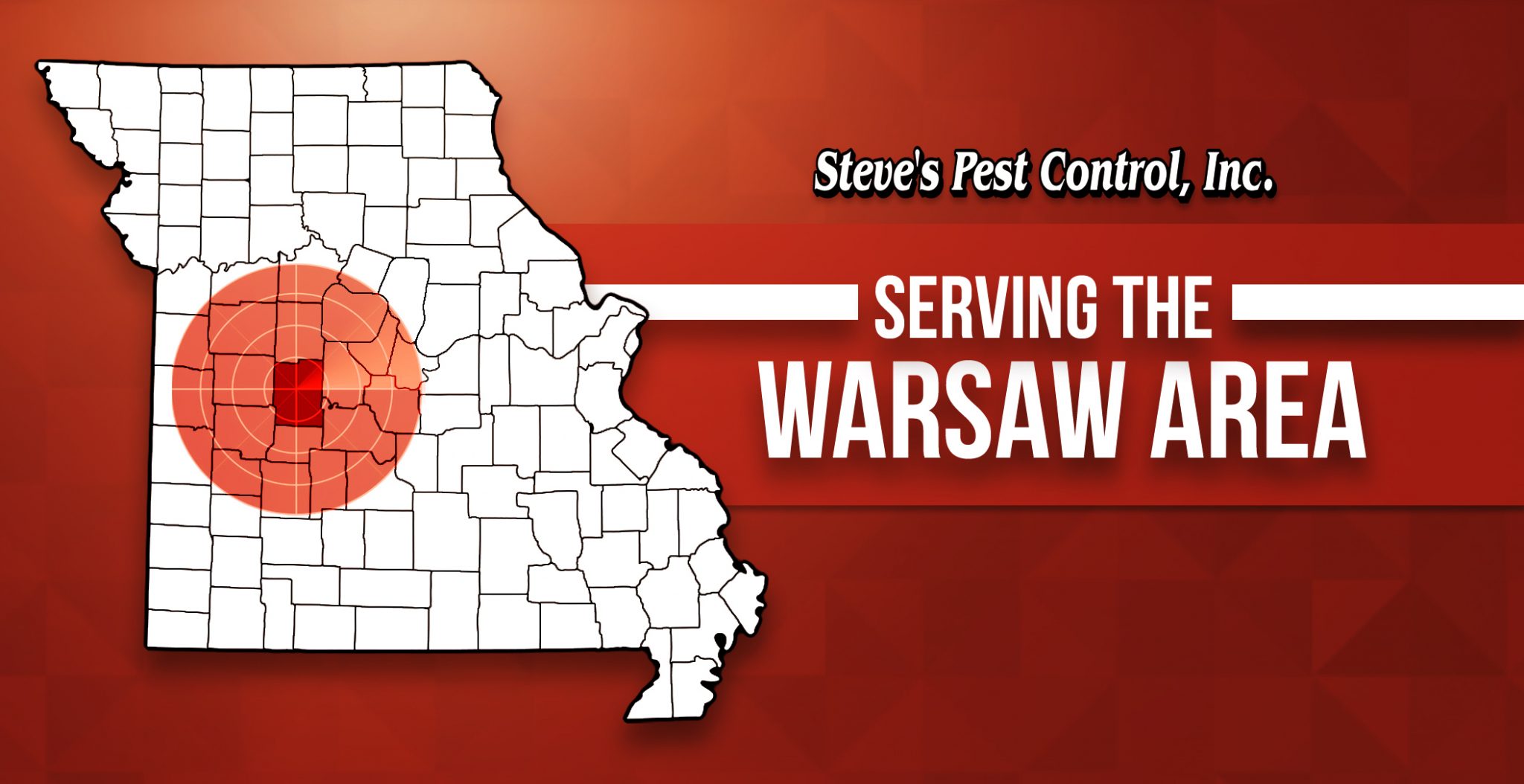 Residential Pest Control Services and Bed Bug Exterminator in Warsaw, Mo
Don't let pesky critters overrun your home. Whether it be spiders, ants, termites, stinging insects, mosquitos or larger rodents, Steve's Pest Control offers a variety of residential services to remove harmful and annoying pests from your home. Bed bugs, one of the most common home invaders, can be frustrating and difficult to remove. Our experts use heat treatment technology to remove pesky bed bugs and keep your family safe and comfortable.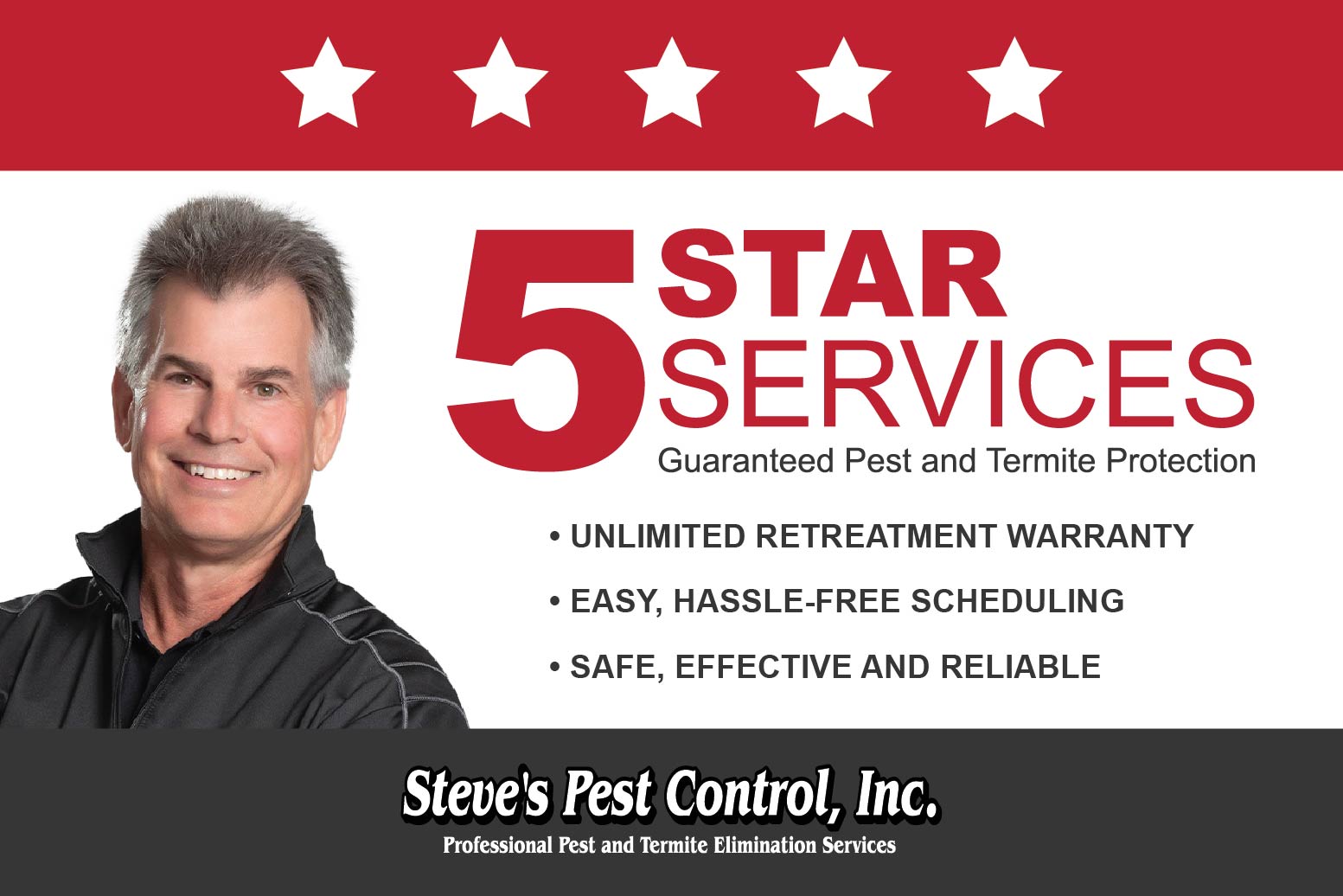 Commercial Pest Control Services and Termite Exterminator in Warsaw, Mo
Protect the reputation of your business with our commercial pest control services in Warsaw, Mo. Our experts have exterminated businesses in numerous industries, including restaurants, bars, hotels and motels, college campus facilities, dormitories, offices and more! Whether it be cockroaches or excessive flies, Steve's Pest Control offers a wide variety of services for your business. Termites are often a big fear of mid-Missouri business owners. Schedule a termite inspection or preventative protection appointment today to protect your business.
How to Tell if I Have Bed Bugs in Warsaw, Mo?
Bed bugs are nocturnal creatures with an average lifespan of 10 to 12 months. Considered hitchhiker pests, they are difficult to spot and remove from your home. With our services, you can protect the health of your family and prevent unnecessary damage. Not sure if you need a bed bug exterminator in Warsaw, Mo? Give us a call. Steve's 5 Star Service Program is a proactive approach to keep pests from ever reaching the interior walls of your home.
How to Tell if I Have Termites in Warsaw, Mo?
Termites are often inevitable in mid-Missouri. Whether it be in your home or business, termite damage can be costly. Termites jeopardize the structure of your property by breaking down and weakening wooden materials. If you need a termite exterminator in Warsaw, Mo, give us a call today! To get ahead of the problem before it starts, ask us about our preventative programs to ensure your home and business are free of termites.
Pest Control Services Areas By Zip Code:
65355, 65338, 65360, 65323, 64735, 64740, 64763, 64776, 65735, 65779 65668, 65732, 65634, 65326, 65325, 65078
Proudly Providing Pest Control Services in Warsaw, Mo & Surrounding Areas:
Lincoln, Osceola, Wheatland, Hermitage, Preston, Cole Camp, Weaubleau, Deepwater, Stover, Pittsburg, Lowry City, Urbana, Calhoun
Steve's Pest Control Warsaw Area - Learn more!
Get a Free Pest Evaluation
Why Choose Steve's Pest Control?
Steve's Pest Control is dedicated to a certain level of excellence in all of our pest control services. We want each and every one of our customers to have the best experience with us possible. To ensure we do a good job every time, we practice the utmost care and professionalism with each and every pest control project we do.