Pest Control - O'Fallon, Mo
Pest Control Services in O'Fallon, Mo
Steve's Pest Control Hours & Location
Got a Pest Control Problem in O'Fallon, MO? Steve's Pest Control Will Solve Your Pest Control Problem, We Guarantee It!
Finding a few ants in your kitchen might not seem like a big deal, but what about a destructive termite colony in your walls? Or bed bugs in your mattress? While some pest problems might seem worse than others, Steve's Pest Control is happy to help O'Fallon, Mo residents reclaim their homes and businesses. The Steve's Pest Control team has the experience and training you need to get rid of any current pest problems and prevent future ones.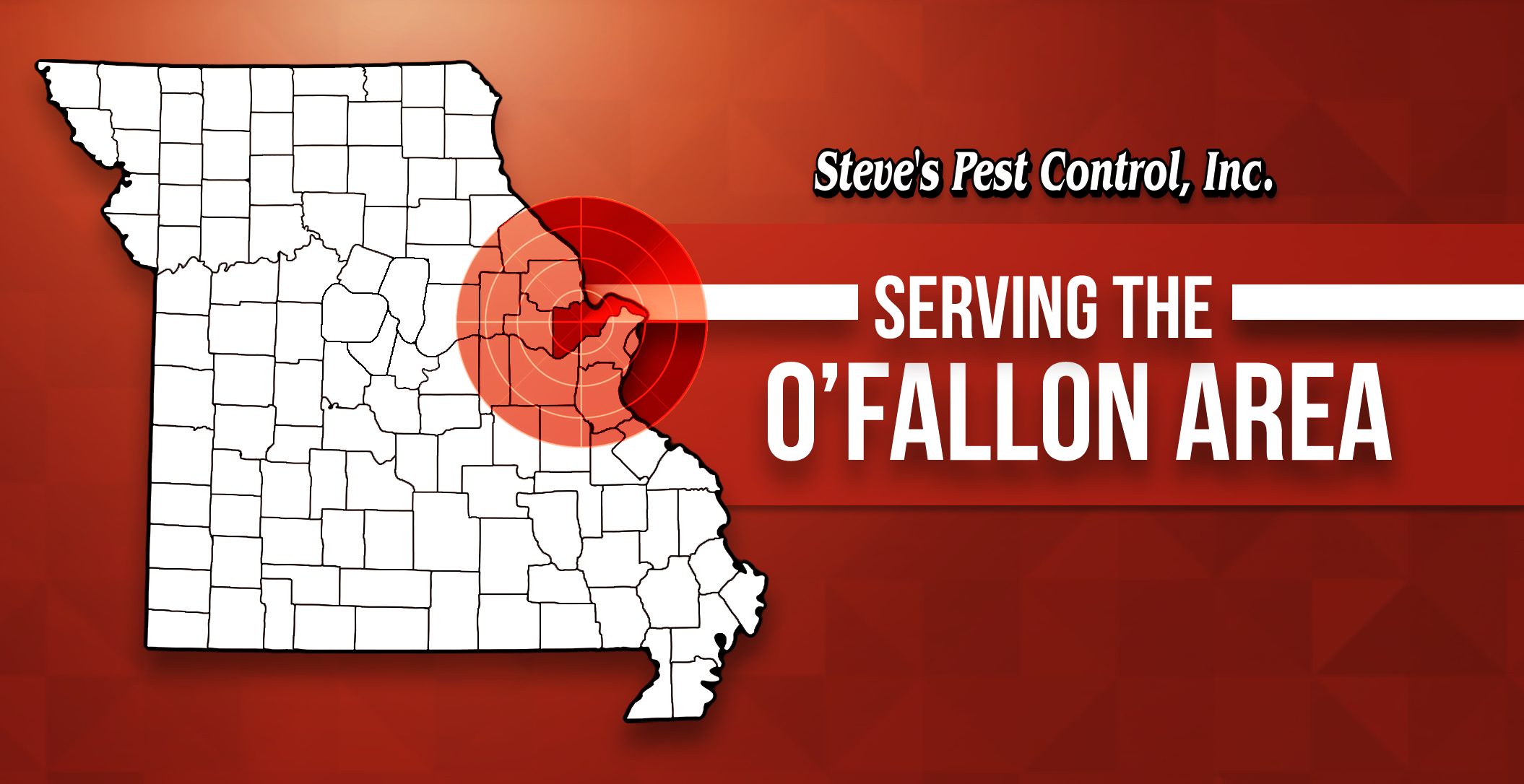 Termites, Bed Bugs, Ants, & Rodents Can Take Over your O'Fallon, Mo Home Quickly
When you need an experienced pest control team, you need Steve's Pest Control. Since 1988, our team of expert pest control technicians have provided unbeatable pest control services. Over the years, we have stayed up to date on industry-leading pest control treatments to ensure our customers' homes are pest-free. As a Missouri-based and family-owned company, we know what it takes to help your life get back on track after discovering a pest problem. Start your journey to a pest-free life by calling Steve's Pest Control today!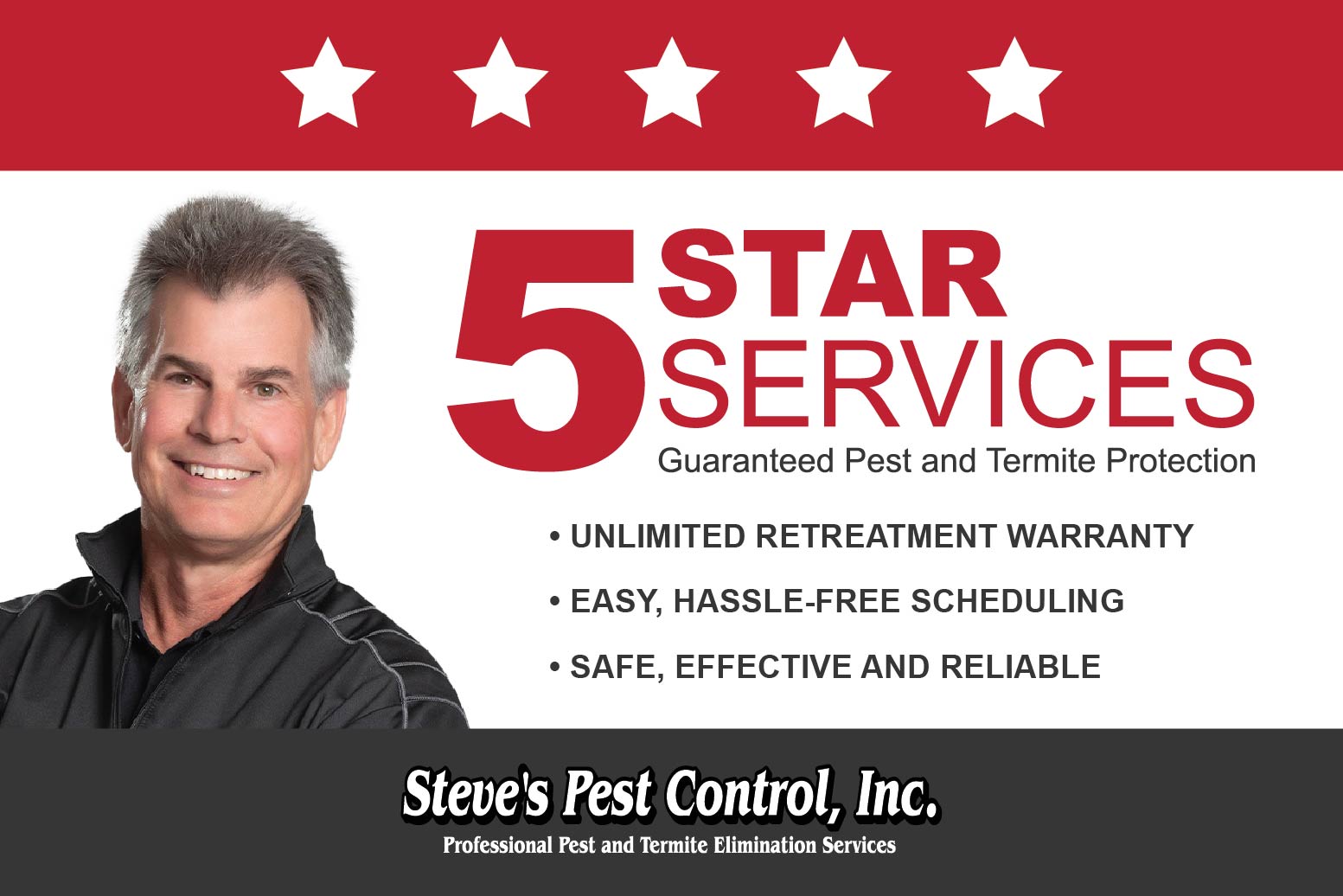 Steve's Pest Control Is Helping Business in O'Fallon, Mo Go Pest-Free Thanks to Our Highly Effective Extermination Services
Finding bugs in your building is never good for business. If cockroaches are meddling in your restaurant, bed bugs are biting in your hotel, or spiders are creeping your customers out, call Steve's Pest Control today. Offices, hotels, schools, daycares, factories, retail shops, and more rely on Steve's Pest Control to exterminate pests and prevent future infestations. When you need to exterminate unwanted pests in O'Fallon, Mo, Steve's Pest Control is here to help!
Pests can cause costly damage to your home or business. Call SteveCall Steve's Pest Control today at (636) 339-6262
How to identify Termites in O'Fallon, Mo
Termites are some of the most destructive and feared pests for any home or business owner, and for good reason! Termites can cause you thousands of dollars in damage and your homeowner's insurance will likely not cover the cost to repair your home. With so much on the line, it's never a good idea to ignore the signs of termites. The easiest way to check for termites is to listen. A termite infestation can often be identified by a tapping or buzzing sound in the walls. This is the colony communicating with each other. If you notice the wood in your home feels soft when you press on it, this could be a sign of interior termite damage. There may even be small holes where termites have broken through. When you notice signs of termites, you need to call Steve's Pest Control. We will send an experienced termite exterminator to your home or business for a free inspection. Termites must be stopped as soon as possible!
How to identify bed bugs in O'Fallon, Mo
Your bedroom should be your safe space where you can rest and recharge. It should never be a breeding ground for bed bugs! Unfortunately, bed bugs love to travel and their favorite destination is your bed. Bed bugs will hop in your suitcase and make the journey home with you, settling into your mattress, carpet, drapes, and furniture. Adult bed bugs are roughly the size of a sesame seed and will be red or brown in color. You can typically find them lurking at the edge of your mattress. If you don't see a bed bug but you've still noticed small, red, itchy bumps on your body, keep an eye out for other signs of bed bugs. These include small, rust-colored stains on your sheets and a musty smell in your room or home. Bed bugs are a huge inconvenience and spread easily. To prevent the spread of bed bugs, give Steve's Pest Control a call. We've been getting rid of bed bugs for the residents of O'Fallon, Mo for years and we can help you too!
Pests Are Preventable in O'Fallon, Mo Thanks to Steve's Pest Control
Call for your free pest evaluation!
Pest Control Services Areas By Zip Code:
63304, 63005, 63341, 63366, 63367, 63368, 63376, 63385, 63348, 63332, 63338, 63342, 63346, 63362, 63365, 63369, 63073, 63389, 63390
Proudly Providing Pest Control Services in O'Fallon, Mo & Surrounding Areas:
Chesterfield, Cottleville, Dardenne Prairie, Gilmore, Howell, Josephville, Lake St. Louis, St. Charles, St. Paul, St. Peters, Weldon Spring
When pests take over your O'Fallon home or business, call Steve's Pest Control right away! We can help solve your pest control problem, no matter the severity.