Pest Control - Moberly, MO
Pest Control Services in Moberly, MO
Steve's Pest Control Hours & Location
Mid-Missouri's Most Reliable Pest Control Services in Moberly, MO
Are you ready to say goodbye to your pest problems once and for all? With the help of Steve's Pest Control, you can! Our dedicated and knowledgeable team has provided premier pest control services to mid-Missouri since 1988. The services we provide are unmatched, so you know you are always receiving the best pest control there in mid-Missouri. As professionals, we can provide your home or business with tailored pest control services to ensure we always meet your needs. Contact us today for a free pest evaluation!
Mid-Missouri, Now You've Got A Friend In The Pest Control Business - Steve's Pest Control!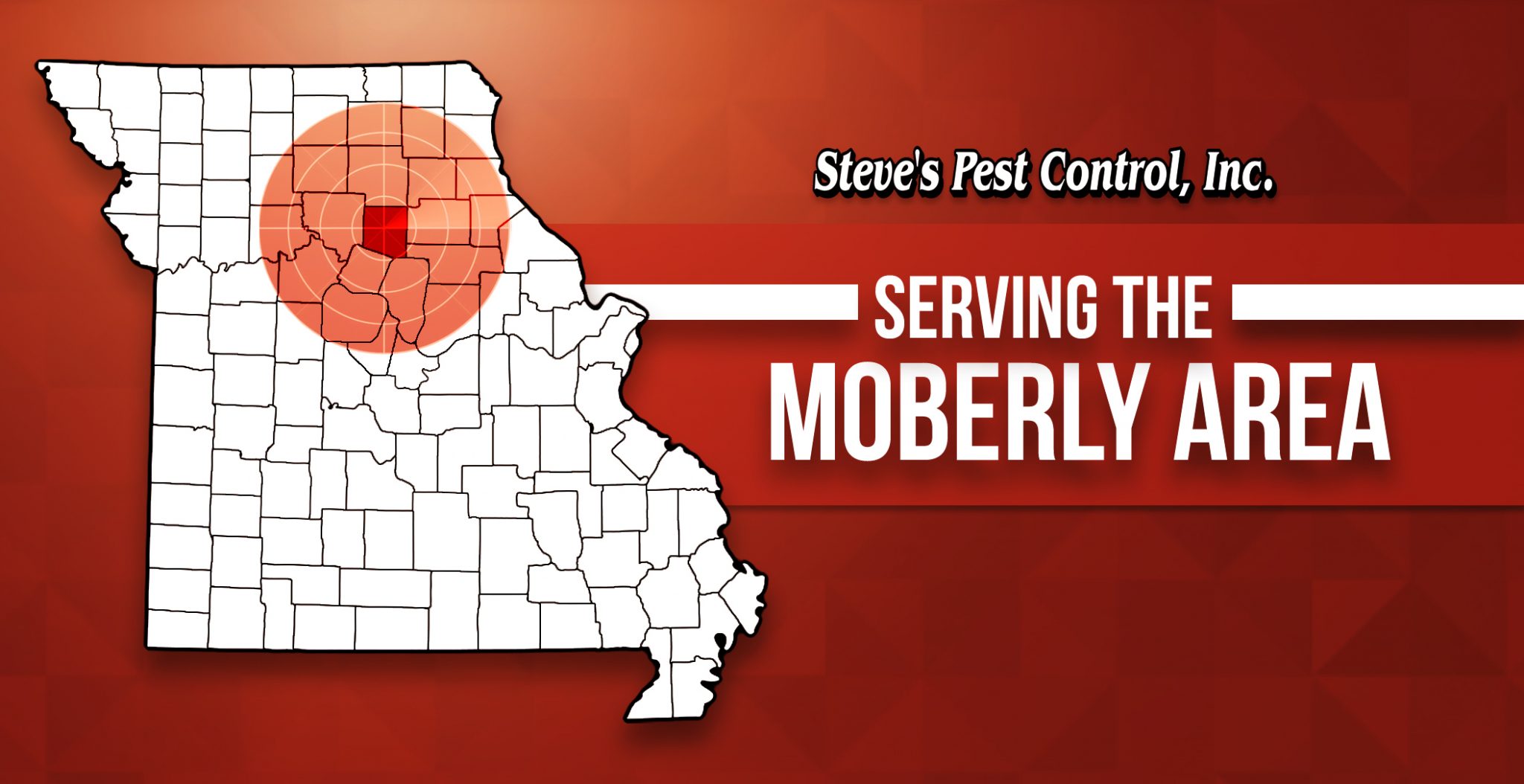 Residential Pest Control Moberly, Mo
Has your home been invaded by unwanted critters? Luckily, our pest control services can reach you in Moberly, Mo! Our residential pest control is non-invasive yet effective. We use treatments which are not harmful to your home or family, but still tough on pests. Take back your home and your peace of mind with the help of the experts at Steve's Pest Control.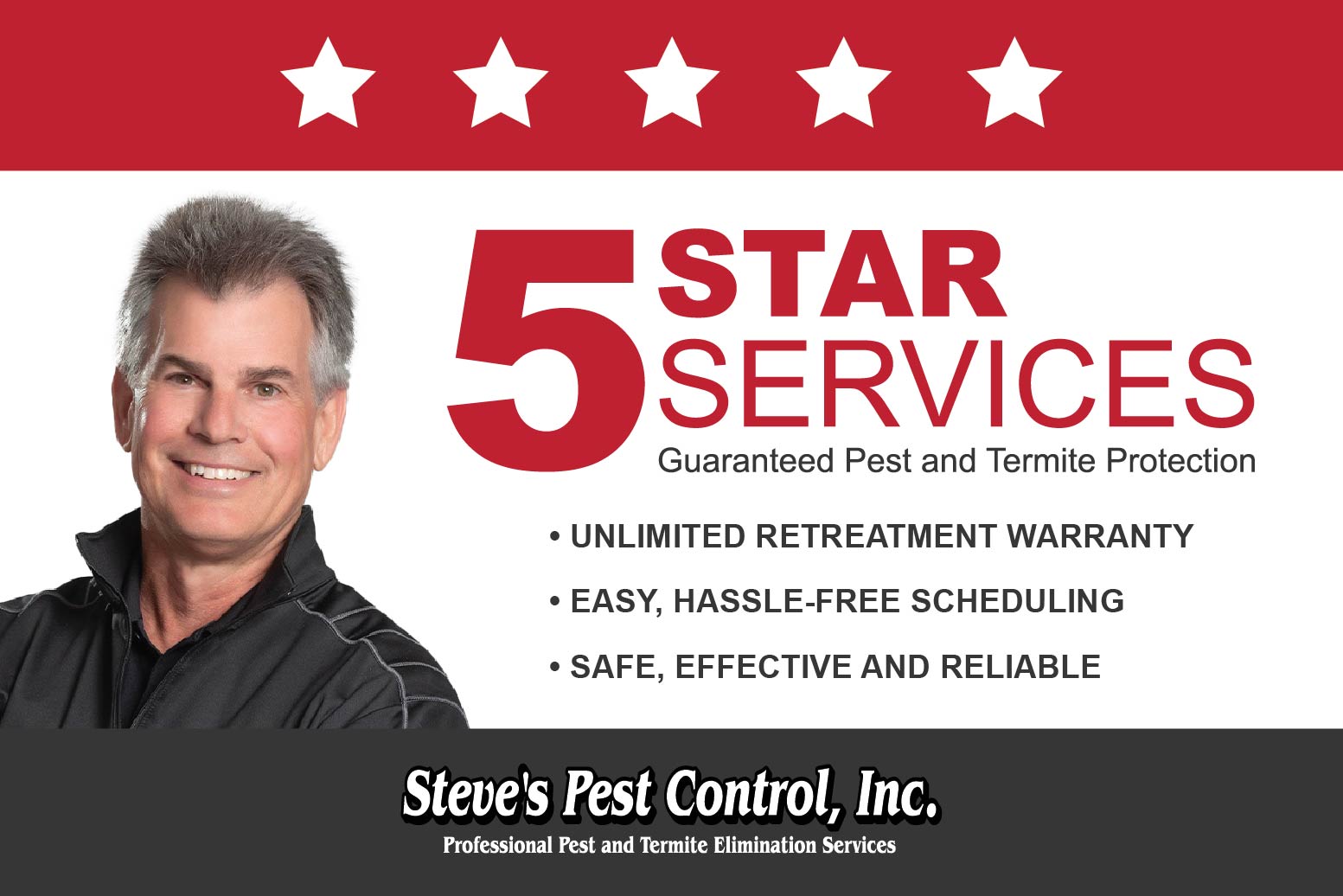 Commercial Pest Control Services Moberly, Mo
Bugs and critters are not the kind of customers you want to be welcoming into your business. Running a business is stressful enough. Don't let the presence of unwanted guests add to that stress. We provide more than just pest removal, but also follow-up services to make sure your pest problem doesn't return. We believe our work to be the most effective because we provide extensive preventative and follow-up care to ensure your business remains pest-free at all times. For more information on how we can help, check out our commercial pest control services.
How To Identify If You Have Bed Bugs In Moberly, Mo
Nobody wants to share their bed with pesky bugs who make your skin itch and cause discomfort. Bed bugs, while small, are not as sneaky as you may think. If you are suspicious you may have bed bugs or simply want to perform a simple check to make sure you don't, here are a few tell-tale signs to confirm their presence. Bed bugs leave behind a rusty residue on your bed. As a colony, they move about leaving behind small stains. Another sign to look for is bite marks appearing on your skin. Checking ankles, arms and necks is always a good place to start. Bed bugs do not bite at random. Since they move as a colony, they bite in organized patterns rather than clusters. Lastly, bed bugs leave behind a distinct odor. This smell is similar to the musk of mildew or a dusty room. If you found one or all of these signs to be present on your bed, contact Steve's Pest Control to set up a bed bug treatment plan.
How To Identify If You Have Termites In Moberly, Mo
Termites are not a desirable companion to have in your home or your business. Termites, if not discovered, can cause a lot of unwanted damage. To help you better identify their presence, we have come up with some signs to look for to indicate your home or business has termites. First, listen for them! It is not common knowledge, however, termites do in fact make noises as they move throughout the wood to communicate to one another within the colony. Next, check out the wooded areas of your home, especially the areas of high insulation. Shared walls are a popular gathering place for termites. Check out the texture of these surfaces. Has it weakened, gone soft or have a papery feel to the touch? If so, the cause of this change in texture could be due to the presence of termites and their handy-work. Not to worry as Steve's Pest Control can be on the scene in Moberly, Mo quickly to discuss the proper termite treatment plan.
Pest Control Services Areas By Zip Code:
65270, 65260, 65259, 65244, 65281, 65230, 65257, 65278, 65243, 65263
Proudly Serving Moberly, Mo & Surrounding Areas:
Cairo, Jacksonville, Darksville, Thomas Hill, Prairie Hill, Clifton Hill, Roanoke, Armstrong, Higbee, Renick, Clark, Middle Grove, and Madison
Steve's Pest Control Moberly Area - Learn more!
Get a Free Pest Evaluation
Why Choose Steve's Pest Control?
Steve's Pest Control has years of expertise in the pest control business. We have spent these last 30+ years developing the perfect solutions to your pest problems. Our team's first priority is always client satisfaction. No matter the size of the pest problem or the type of pest problem, our team can handle it. We take on everything from complete infestations to a rogue raccoon going through your trash. We always promise to give you the best service possible at an affordable price.