Pest Control - Lebanon, MO
Pest Control Services in Lebanon, MO
Steve's Pest Control Hours & Location
Central Missouri's Most Trusted Pest Control Services In Lebanon, MO
No one should have to deal with the stress of sharing their home or business with unwanted pests. Steve's Pest Control has been offering premium pest control in Lebanon, MO and the surrounding areas since 1988! This has given us plenty of time to perfect our skillset as pest exterminators and give our customers the best possible pest control services. Unsure of where to begin? Start out by giving us a call. One of our friendly staff members will provide you with all the information you need to hire a pest control specialist!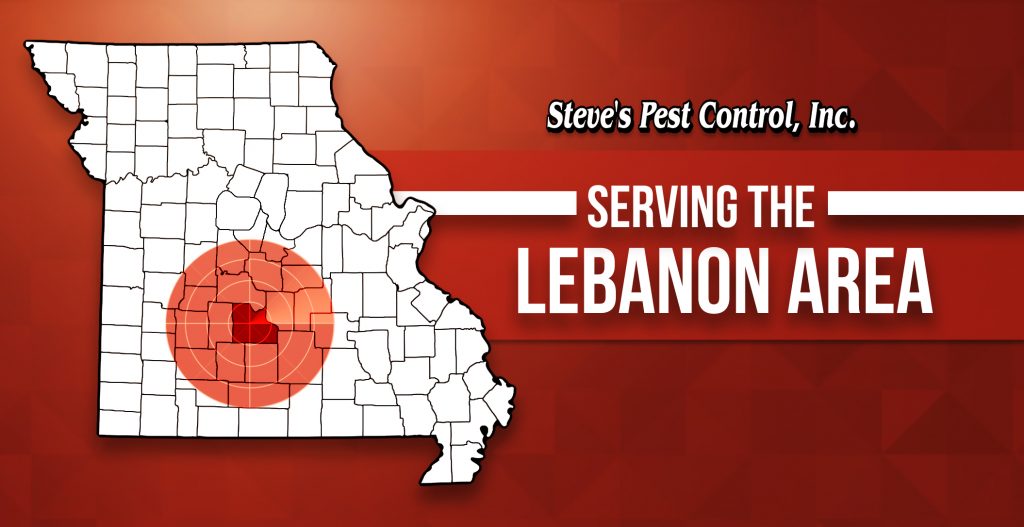 Residential Pest Control in Lebanon, MO
If you are noticing a pest problem in your home, you can rely on Steve's Pest Control to remove the infestation with timeliness and efficiency. Rest assured, once our team of pest control experts have eliminated the problem, it won't be disturbing you or your home again! We understand inviting people into your home can disrupt your daily life, so we work hard to accommodate your schedule. Read all about our residential pest control services to learn more!
Commercial Pest Control in Lebanon, MO
Never let a pest come between you and the success of your business again with the help of Steve's Pest Control! Running a business is already stressful enough without having to worry about unwanted insects at your business. At Steve's Pest Control, we offer exceptional pest control services specifically tailored to eradicate pests from commercial properties. Check in with a Steve's Pest Control staff member or read more on our commercial pest control services.
How To Identify If I Have Bed Bugs in Lebanon, MO
Having any kind of pest in your home is a nuisance, but finding them where you sleep is even worse. The most tell-tale sign of a bed bug infestation is marks on your sheets or mattress. Bed bugs leave behind rusty-red spots on your bed indicating their presence. Additionally, small, itchy marks on your skin could be bed bug bites, indicating an infestation. At Steve's Pest Control, we use the latest in heat treatment technology that allows use to safely eliminate the problem. This method is a chemical-free alternative and requires much less preparatory work on behalf of the customer. For quick and efficient bed bug relief, call Steve's Pest Control, your friend in the pest control business!
How To Identify If I Have Termites in Lebanon, MO
When it comes to termites, it is important to note: they are not only prone to invading residential spaces, but commercial as well. In order to best protect your home and business from termite damage, here are some helpful signs. Termites may be small critters, but collectively they can make a noticeable amount of noise. Listen for clicking noises coming from your walls. One of the more obvious signs is checking the consistency of wood surfaces in your home or business. Check for a papery feel on the surface and a hollow sound that comes from knocking. If any of these signs sound applicable to your home or business, don't hesitate to reach out and read more on our termite services.
Steve's Pest Control - Proudly serving Lebanon, MO and surrounding areas!
Pest Control Services Areas By Zip Code:
65041, 63014, 65036, 65062, 65069, 65024, 65061, 65067
Get a Free Pest Evaluation
Why Choose Steve's Pest Control?
Steve's Pest Control has been providing expert pest control services for over 30 years now. Our highly trained and knowledgeable staff has spent this time perfecting their work, allowing them to deliver the best possible service to all of mid-Missouri! We not only value the work we do, but those we do it for as customer service has always been our number one priority. Interested in learning more about us? Check out our 5 Star Program to see all we can do for you! Steve's Pest Control, your friend in the pest control business!