Pest Control - Kirksville, Mo
Pest Control Services in Kirksville, Mo
Steve's Pest Control Hours & Location
Is Your Current Pest Control Plan Do-It-Yourself? Be Warned! Your Home's Value is at Stake!
Creating happy memories at home should never include termites, bed bugs, roaches, or rodents. Pests cause health issues like allergies and illness as well as structural damage. If a pest problem is not addressed right away, you could be paying thousands of dollars to repair your home. Don't wait to solve a pest problem! Call Steve's Pest Control today. We are Kirksville, Mo's experienced pest control experts, eliminating bugs and rodents to prevent them from returning.
Kirksville, Mo's Comprehensive Residential Pest Control Solution
At Steve's Pest Control, we work hard to be the top pest control provider in Kirksville, Mo. Our professional pest exterminators have spent years honing their skills and bringing peace of mind to Missouri residents. We stay up to date on the latest pest control methods, researching and learning about the superior pest control tools we use to protect your family. When you have a pest question, Steve's Pest Control exterminators can help. Contact us today for a free pest consultation.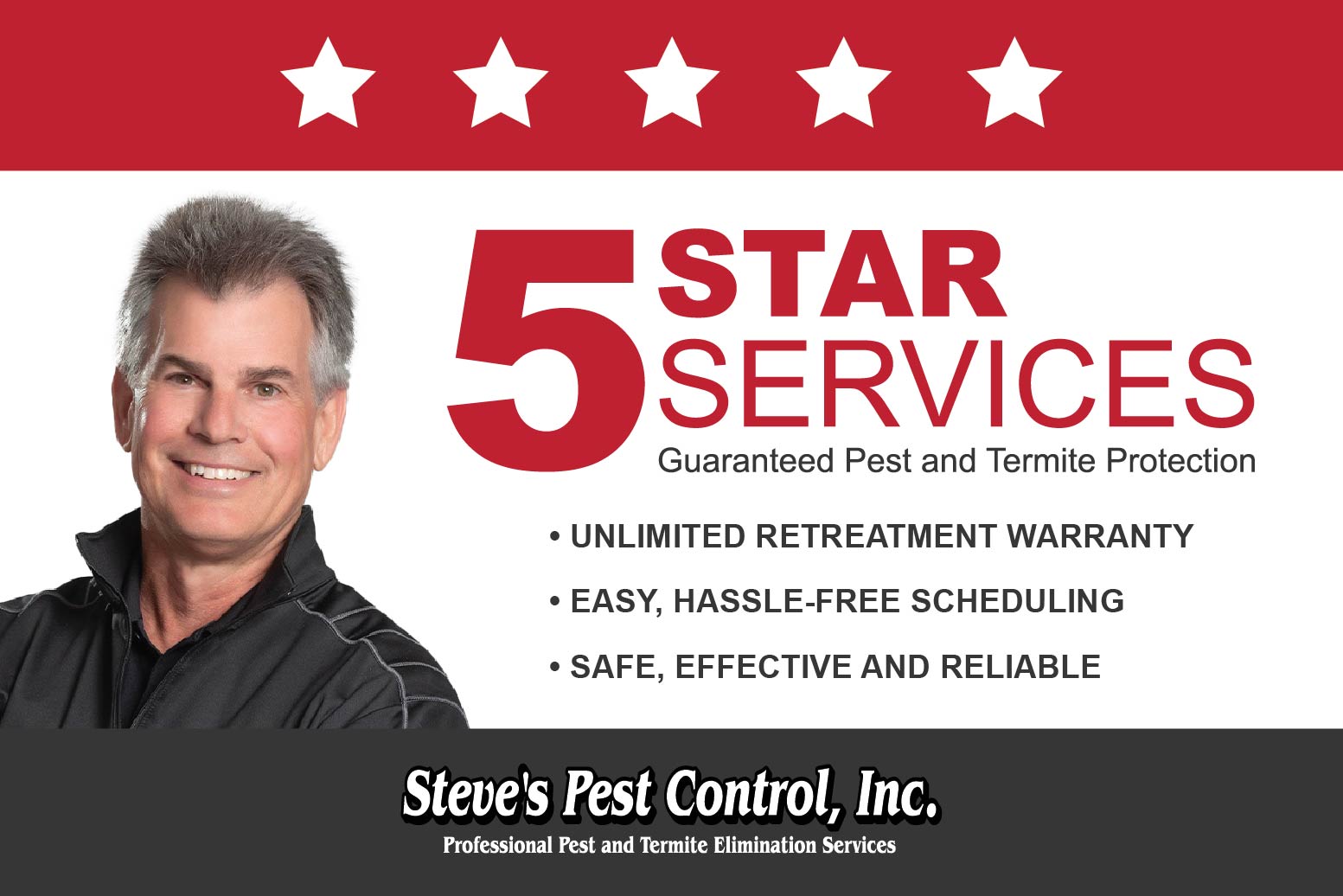 Commercial Pest Control Done Right by Steve's Pest Control
Termites, bed bugs, beetles, spiders, roaches and rodents are troublesome and gross, especially when their presence affects your customers and employees. Luckily, Kirksville, Mo business owners have Steve's Pest Control. We can help you prevent termites, exterminate existing colonies, and handle any other pest problem you may have. Roaches in the kitchen? Ants in the entryway? Spiders on the shelves? Steve's Pest Control is eliminating pest problems and making life easier for business owners in Kirksville, Mo.
Don't wait until it's too late to protect your home or business from destructive pests. When you notice a pest problem, call Steve's Pest Control at 660-730-3232.
Are termites common in Kirksville, Mo?
The short answer? Yes. Missouri has a very welcoming climate for termites, especially the most common species, subterranean termites. They love warm summer climates and seek refuge indoors during colder months. Your warm, cozy home in Kirksville, Mo is very welcoming to subterranean termites. These crafty critters can fit through cracks in your foundation and reach the wood inside. Because they rarely show themselves, it is unlikely you will know you have a termite problem until they've already caused costly damage. You can stay vigilant to the signs of termites by listening for a buzzing or tapping noise within your walls, watching for the formatting of mud tubes on interior or exterior walls, and checking for droppings near windows and doors. Any sign of termites should be addressed immediately by calling Steve's Pest Control. Only a professional exterminator can identify and eliminate termites in Kirksville, Mo.
Control bed bugs in Kirksville, Mo
Unlike termites, bed bugs are easier to identify but just as difficult to control. You can carry bed bugs in your suitcase and into your home without even realizing it. You will only start to realize when you notice red, itchy bumps appearing on your body. Mosquitoes and chiggers will bite at random, but bed bugs will leave a curious line of bites. They will also leave brown and red stains on your sheets - a combination of your blood and their excrement. Gross! Bed bugs can also leave a musty smell in your bedroom. When you notice these common signs of bed bugs, it's time to look for the culprits. Check the edges of your bed, over and under the sheets, for small, sesame seed-sized bugs. If you find bed bugs or simply suspect their presence, give Steve's Pest Control a call. We've been helping homeowners in Missouri get rid of bed bugs since 1988! Contact our bed bug exterminators for a free evaluation today.
Steve's Pest Control Exterminates Your Pest Problem, Guaranteed!
Call for your free pest evaluation in Kirksville, Mo!
Pest Control Services Areas By Zip Code:
63501, 63533, 64628, 63537, 63544, 63545, 63547, 63549, 63552, 63555, 63556, 63559, 63565, 63546, 63540
Proudly Providing Pest Control Services in Kirksville, MO and Surrounding Areas:
Brashear, Brookfield, Edina, Greencastle, Green City, Hurdland, La Plata, Macon, Memphis, Milan, Novinger, Unionville
Make your pest problem a thing of the past with Steve's Pest Control. From prevention to extermination, Steve's Pest Control can do it all.
Get a Free Pest Evaluation
Why Choose Steve's Pest Control?
Steve's Pest Control is dedicated to a certain level of excellence in all of our pest control services. We want each and every one of our customers to have the best experience with us possible. To ensure we do a good job every time, we practice the utmost care and professionalism with each and every pest control project we do.