Pest Control Services in Troy, Mo
Steve's Pest Control Hours & Location
Mid-Missouri's Most Dependable Pest Control Services in Troy, Mo
Since 1988, Steve's Pest Control, an independent, family-owned and operated business has been exterminating pests in residential and commercial buildings throughout Missouri. With personalized services to best fit your needs, our team works to ensure your home or business is safe from unwanted guests. Whether you are battling bed bugs, termites, moles or spiders, our team of exterminators in Troy, Mo are here to help. Call today for a free pest evaluation!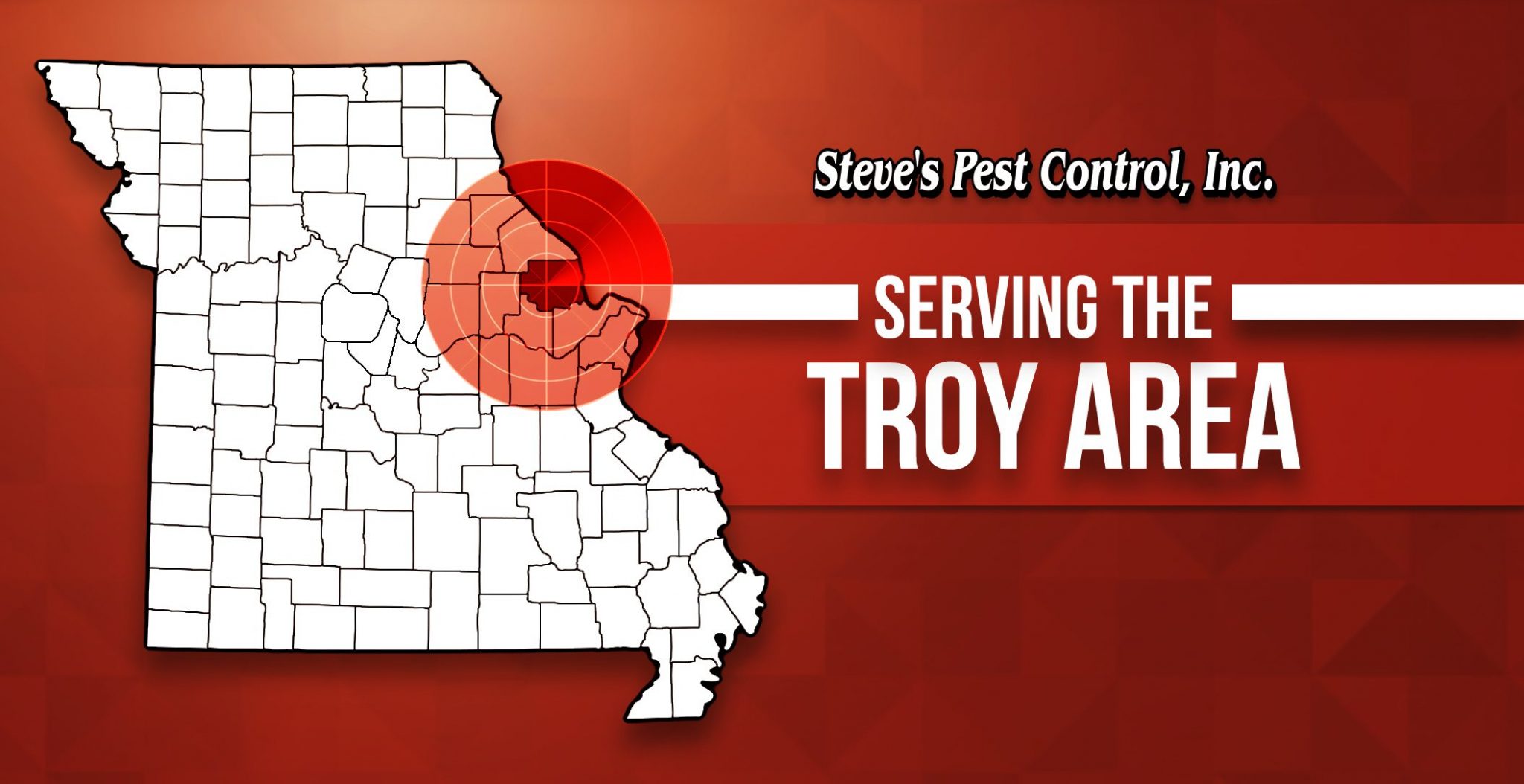 Residential Pest Control Services and Bed Bug Exterminator in Troy, Mo
Have you recently walked into your home and been greeted by an unexpected surprise? No we aren't talking about the mess your kids left, but instead about a house overrun with creepy crawlers! Don't let unwanted pests overrun your mid-Missouri home — call the expert exterminators at Steve's Pest Control today! With experience in removing roaches, fleas, rodents, and more you'll never have to worry about pesky critters again.  
Searching for year-round pest protection in Troy, Mo? Look no further than your friends at Steve's Pest Control! In addition to our residential services, our team of expert exterminators offer proactive pest control plans with our 5-Star Service program. With a variety of levels we are sure, you'll find the level of protection to best fit your home or business. Give us a call today to learn more!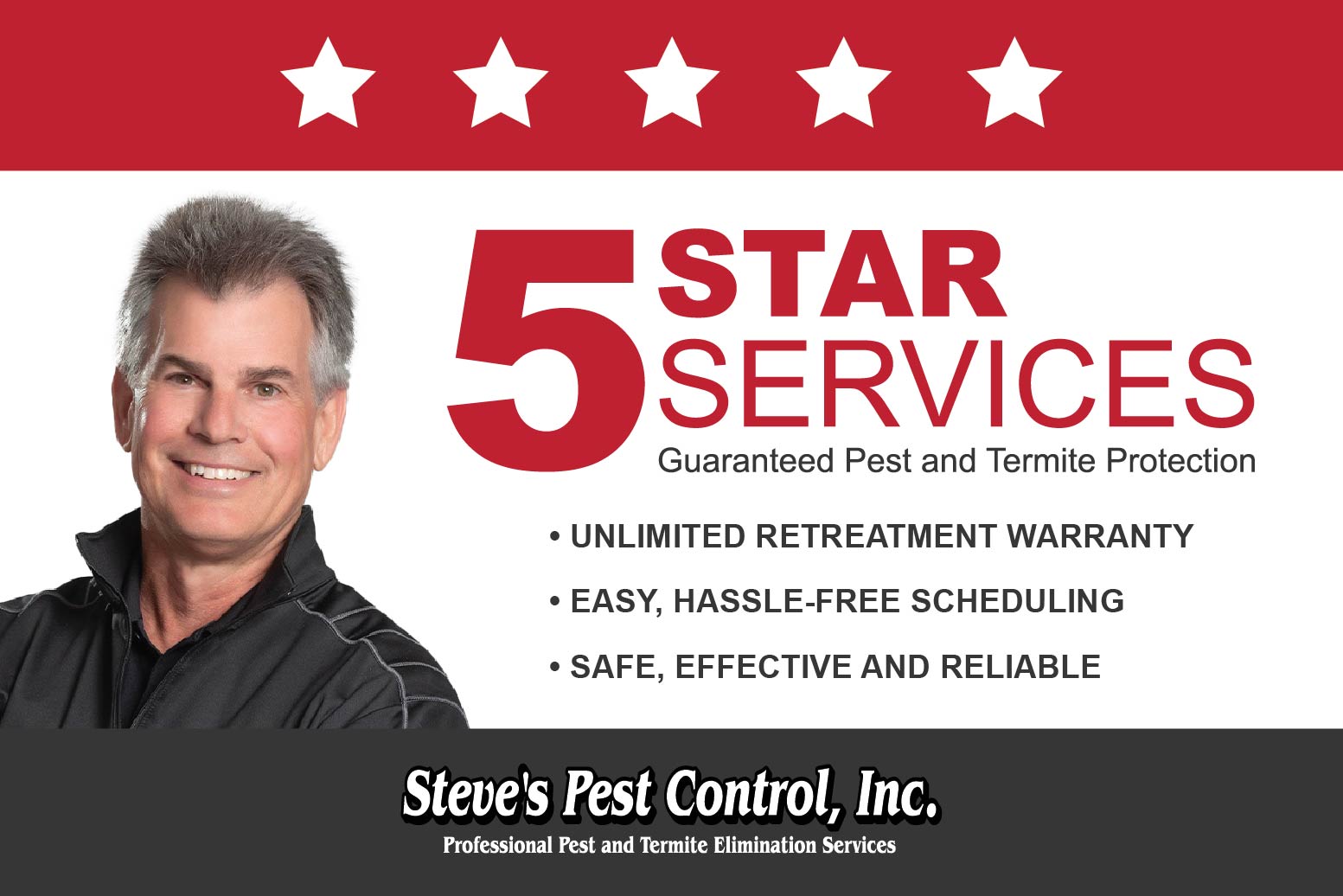 How to Tell if I Have Bed Bugs in Troy, Mo
Commonly found near mattresses and in small crevices, bed bugs can be difficult to spot and remove from your home. Not sure how your home could be infested with bed bugs? Bed bugs are hitchhiking pests that travel via clothes, luggage, furniture or other cloth items. Due to their size they may go unnoticed for long periods of time. Download our Guide to Bed Bugs today to learn more!
Our team of exterminators in Troy, Mo will quickly eliminate bed bugs with our heat treatment technology to ensure your home and family are safe. By eliminating harsh chemicals in the removal process, we are able to get you back in the comfort of your home quicker knowing it is bug free! Call our experts today to learn more about our bed bug extermination services in mid-Missouri.
Commercial Pest Control Services and Termite Exterminator in Troy, Mo
With our commercial pest control services in Warren, Mo you won't have to worry about unwanted critters running off your customers. Our team of exterminators have experience with the removal of cockroaches, termites, flies and other pests throughout Missouri. Whether you own a restaurant, bar, hotel or motel, college campus facility, warehouse or office, our team has experience exterminating a variety of businesses. 
Not sure what pests are overrunning your mid-Missouri business? Our free pest evaluation in Warren, Mo can help you determine the best control plan for your business. Give us a call today to see what we can do for you!
How to Tell if I Have Termites in Troy, Mo
Have you recently noticed the wood of your home or business is less dense than it used to be? Call our expert exterminators immediately! Termites are destructive critters that can quickly cause structural damage to your building if not treated properly. Living in Missouri, termites are often inevitable, so if you notice common termite signs in your home or business it's important to call an expert as soon as possible to prevent costly damage. 
Offering a termite protection plan that not only eradicates termites, but also prevents them from ever gnawing on your property. Schedule an evaluation with our exterminators in Troy, Mo today!
Remove unwanted critters from your mid-Missouri home or business when you call Steve's Pest Control today at (636) 235-7200.
Pest Control Services Areas By Zip Code:
63379, 63343, 63346, 63347, 63349, 63362, 63369, 63377, 63381, 63387, 63389, and 63390
Proudly Providing Pest Control Services in Troy, Mo & Surrounding Areas:
Moscow Mills, Hawk Point, Winfield, Old Monroe, Elsberry, Wright City, Foristell, Eolia, Wentzville, Warrenton, Bellflower, Lake Saint Louis, Jonesburg, New Melle, Hardin, Bowling Green, Saint Peters, and Clarksville, Mo
Steve's Pest Control Troy Area - Learn more!
Get a Free Pest Evaluation
Why Choose Steve's Pest Control?
Steve's Pest Control is dedicated to a certain level of excellence in all of our pest control services. We want each and every one of our customers to have the best experience with us possible. To ensure we do a good job every time, we practice the utmost care and professionalism with each and every pest control project we do.