Pest Control - Wentzville, Mo
Pest Control Services in Wentzville, Mo
Steve's Pest Control Hours & Location
Missouri's Most Reliable Pest Control Services in Wentzville, Mo
Tired of unwanted guests taking over your home or business? No, we aren't talking about your in-laws, but the pesky bed bugs, termites and creepy crawlers that have found themselves in your home or business! 
Offering extermination services and pest control in Wentzville, Mo since 1988, our team of experts are here to rid you of your pest problem. With personalized services, our independent, family-owned and operated business understands the frustrations of removing pesky critters. Not sure where to begin? No worries, call the experts at Steve's Pest Control for a free pest evaluation today!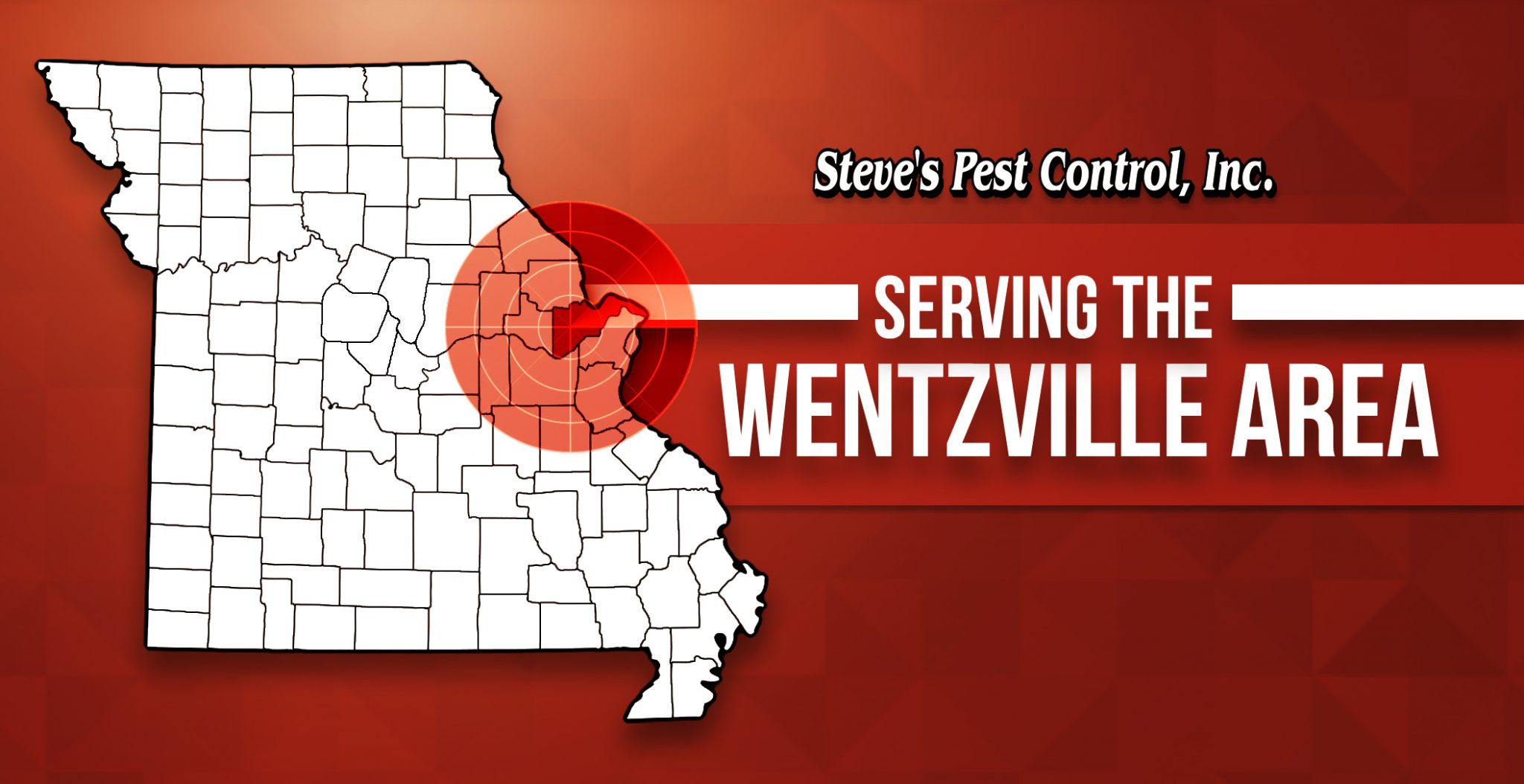 Residential Pest Control Services and Bed Bug Exterminator in Wentzville, Mo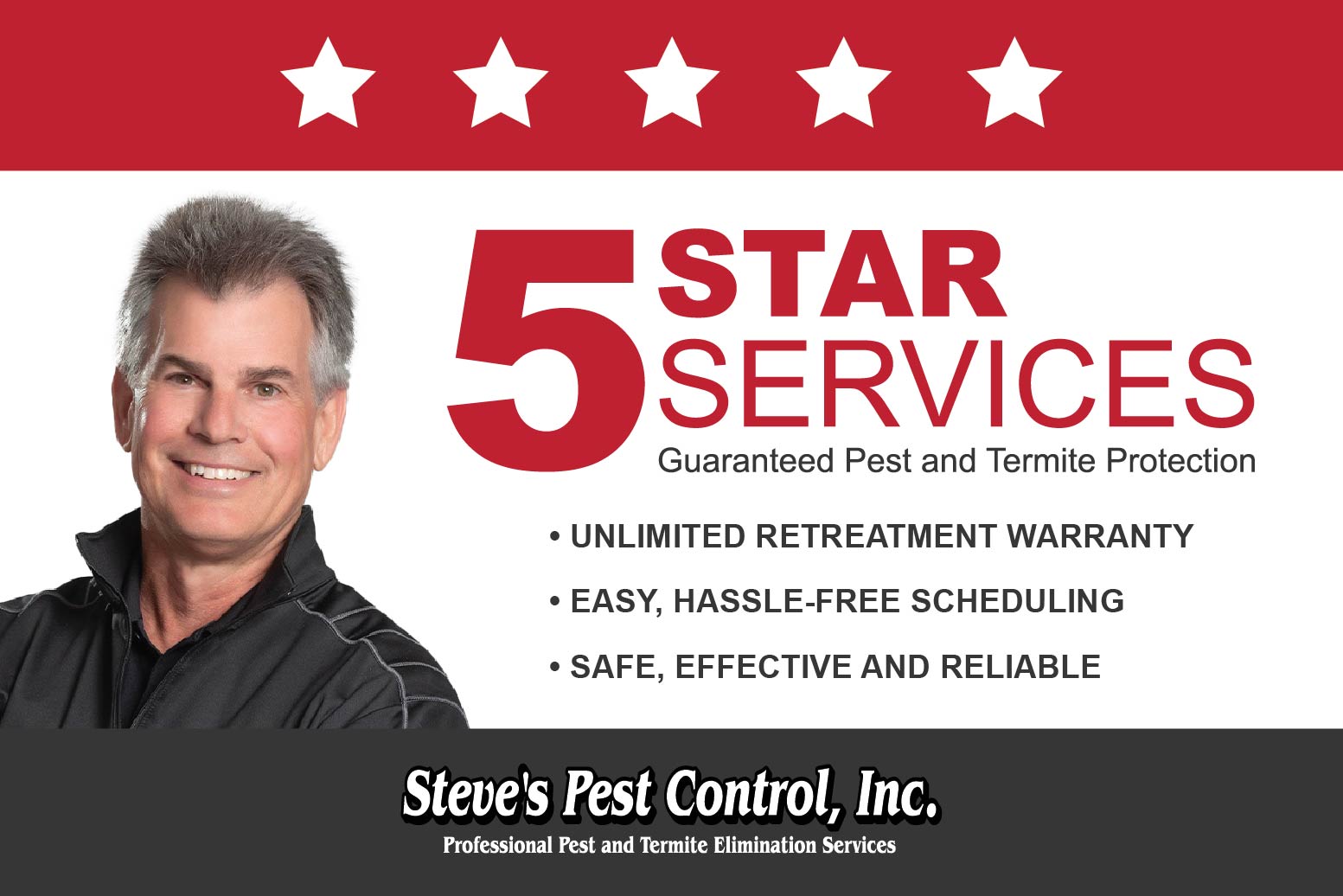 How to Tell if I Have Bed Bugs in Wentzville, Mo
Bed bugs, one of the most common home invaders, can be frustrating and difficult to remove. Nocturnal creatures with an average lifespan of 10 to 12 months, these hitchhiker pests can be difficult to spot and remove from your home without an experts help. Our experienced team at Steve's Pest Control uses heat treatment technology to reduce the use of harmful chemicals, but still ensure your home is eradicated from any pesky bed bugs. Give us a call today if you need a bed bug exterminator in Wenztville, Mo!
Commercial Pest Control Services and Termite Exterminator in Wentzville, Mo
Are you a Missouri business owner? Have you found your business is crawling with unwanted and non-paying customers? With Steve's Pest Control in Wentzville, Mo you don't have to worry about pest control anymore! Our commercial pest control services eliminate cockroaches, termites, mosquitoes, rodents and more. 
With experience in exterminating a variety of industries including restaurants, bars, grocery stores, hotels and motels, college campus facilities, dormitories, daycares, warehouses, offices and more, know you are getting an experienced pest control team when you call us today!
How to Tell if I Have Termites in Wentzville, Mo
Don't let your home or business suffer costly damage because of termites. Often inevitable in mid-Missouri, termites quickly damage the structure of your property by breaking down and weakening wooden material. If you are concerned about termites in your business, give our expert termite exterminators in Wentzville, Mo a call immediately. The team at Steve's Pest Control is here to help you! Ask about our preventative programs or free pest evaluations to ensure your home or business is secure from any termite or pest infestation in the future.
Protect your home or business from long-term damage. Call Steve's Pest Control today at (636) 698-7000.
Pest Control Services Areas By Zip Code:
63348, 63367, 63385, 63332, 63005, 63338, 63341, 63342, 63346, 63362, 63365, 63368, 63369, 63073, 63376, 63389, 63390
Proudly Serving Wentzville, Mo and Surrounding Areas:
Lake Saint Louis, Saint Peters, Chesterfield, Wildwood, Washington, Saint Charles, Ellisville, Ballwin, Manchester, Maryland Heights, Bridgeton, Town and Country, Creve Coeur, Saint Ann, and Hazelwood
Steve's Pest Control Wentzville Area - Learn more!
Get a Free Pest Evaluation
Why Choose Steve's Pest Control?
Steve's Pest Control is dedicated to a certain level of excellence in all of our pest control services. We want each and every one of our customers to have the best experience with us possible. To ensure we do a good job every time, we practice the utmost care and professionalism with each and every pest control project we do.