Pest Control - Warren, Mo
Pest Control Services in Warren, Mo
Steve's Pest Control Hours & Location
Missouri's Most Reliable Pest Control Services in Warren, Mo
Have you recently been greeted by an unwanted guest in your home or business? No, we aren't talking about your in-laws or non-paying customers, we are talking about the creepy crawlers that often go unnoticed until it's too late. No need to fret, with Steve's Pest Control you won't have to worry about bed bugs, termites and other small critters finding their way into your home or business in Missouri. 
Since 1988, our independent, family-owned and operated business has been offering commercial and residential extermination and pest control services in Warren, Mo. With personalized services, our team works to ensure your home or business is safe from unwanted guests. Not sure where to begin? Call our team for a free pest evaluation today!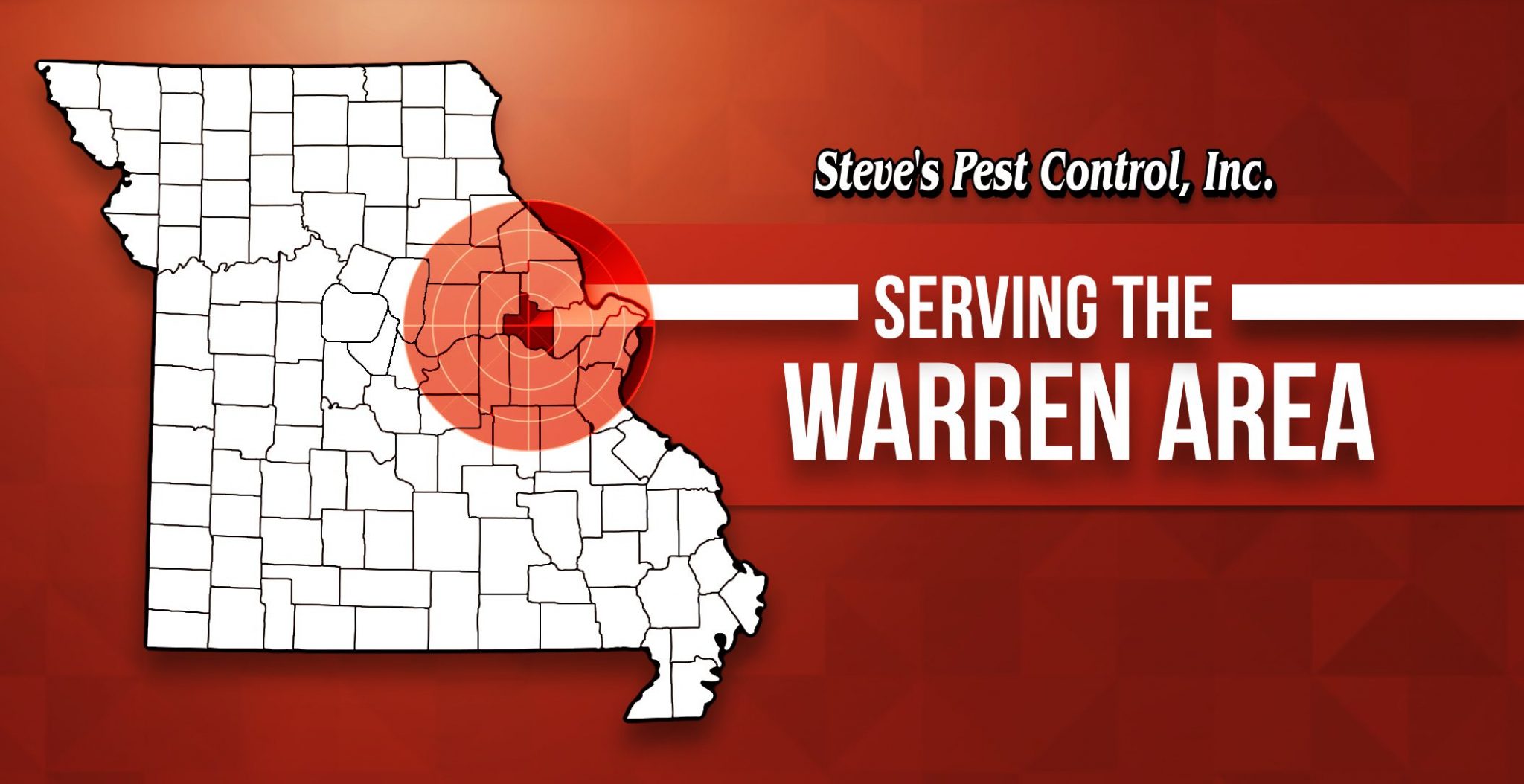 Residential Pest Control Services and Bed Bug Exterminator in Warren, Mo
Don't let unwanted pests overrun your home. Whether you were recently greeted by a bug, rodent or another unwanted critter, our team of experienced exterminators are here to help you. With protecting your family and home being our number one priority, trust you are in no better hands then when you call Steve's Pest Control. We are the regional experts in removing cockroaches, fleas, moles, mosquitoes, rodents, spiders, bed bugs and more! 
Looking for year-round protection services to ensure no critter gets close to your walls? In addition to our residential services, our experienced team offers proactive pest control plans in Warren, Mo. Ask our team about the advantages of our 5-Star Service program. Through a variety of 5-star plans, you can choose the plan that best suits your home and family!
How to Tell if I Have Bed Bugs in Warren, Mo
Bed bugs, nocturnal creatures that travel into your home by hitchhiking onto your clothes, luggage or other items, are difficult to remove and even more difficult to spot. Nobody wants this common guest in their home, apartment or hotel. Inspect your home or business for the following signs: 
Musty or mildew smells near colonizations of bed bugs.

Dark-colored spots on the corner of mattresses or other small crevices where bed bugs hide. 

Waking up with small red bumps on exposed skin, specifically your ankles and neck. 
Noticing one or more of the above signs in your home or business? Call our expert exterminators in Warren, Mo today! By using heat treatment technology, our team can quickly remove bed bugs from your home without the use of harsh chemicals. If you are still unsure about whether or not your home has bed bugs, download our bed bug guide to learn more about their hiding spots, preventative tips and how to prepare your home for extermination.
Commercial Pest Control Services and Termite Exterminator in Warren, Mo
With our commercial pest control services in Warren, Mo you won't have to worry about unwanted critters running off your customers. Our team of exterminators have experience with the removal of cockroaches, termites, flies and other pests throughout Missouri. Whether you own a restaurant, bar, hotel or motel, college campus facility, warehouse or office, our team has experience exterminating a variety of businesses. 
Not sure what pests are overrunning your mid-Missouri business? Our free pest evaluation in Warren, Mo can help you determine the best control plan for your business. Give us a call today to see what we can do for you!
How to Tell if I Have Termites in Warren, Mo
No matter if it's your home or business, termites are destructive critters that quickly can cause costly damage if not treated properly. Unfortunately living in Missouri, termites often are inevitable. No need to worry though, our experts are here to help you prevent long-term damage with our exterminator services in Warren, Mo. If you find the following signs in your home or business call our team immediately! 
Small holes in the interior or exterior of walls indicate the entrances or exits for these small critters! 

Changed texture or density in the wood structure of your home or business. 

Rattling noise within the walls of your home or business. Similar to a knocking or bumping noise. 
If you are in need of a termite exterminator in Warren, Mo call our team today! With our termite protection plan, your home or business can be quickly eradicated of any termites. Learn more today!
Remove pesky critters from your home or business for good! Call Steve's Pest Control today at (660) 591-1900.
Pest Control Services Areas By Zip Code:
63456, 63463, 63434, 63469, 63450, 63468, 65283, 65283, 63436, 63459, 63401 and 63461.
Proudly Providing Pest Control Services in Warren, Mo & Surrounding Areas:
Shelbyville, Emden, Philadelphia, Palmyra, Woodland, Rensselaer, Monroe City, Hunnewell, Lakenan, Indian Creek, and Shelbina, Mo
Steve's Pest Control Warren Area - Learn more!