Pest Control - St. Robert
Pest Control St. Robert, Mo
Steve's Pest Control Hours & Location
St. Robert, MOs Most Reliable Pest Control Team, Steve's Pest Control
Unwanted guests finding their way into your home? Don't fret. Steve's Pest Control has offered exceptional extermination and pest control services in St. Robert, MO since 1988. As one of the largest independent pest control companies in mid-Missouri, you can trust your home and business are in great hands with our experts. Not sure which critter is invading your space? Call us today and schedule a free pest evaluation.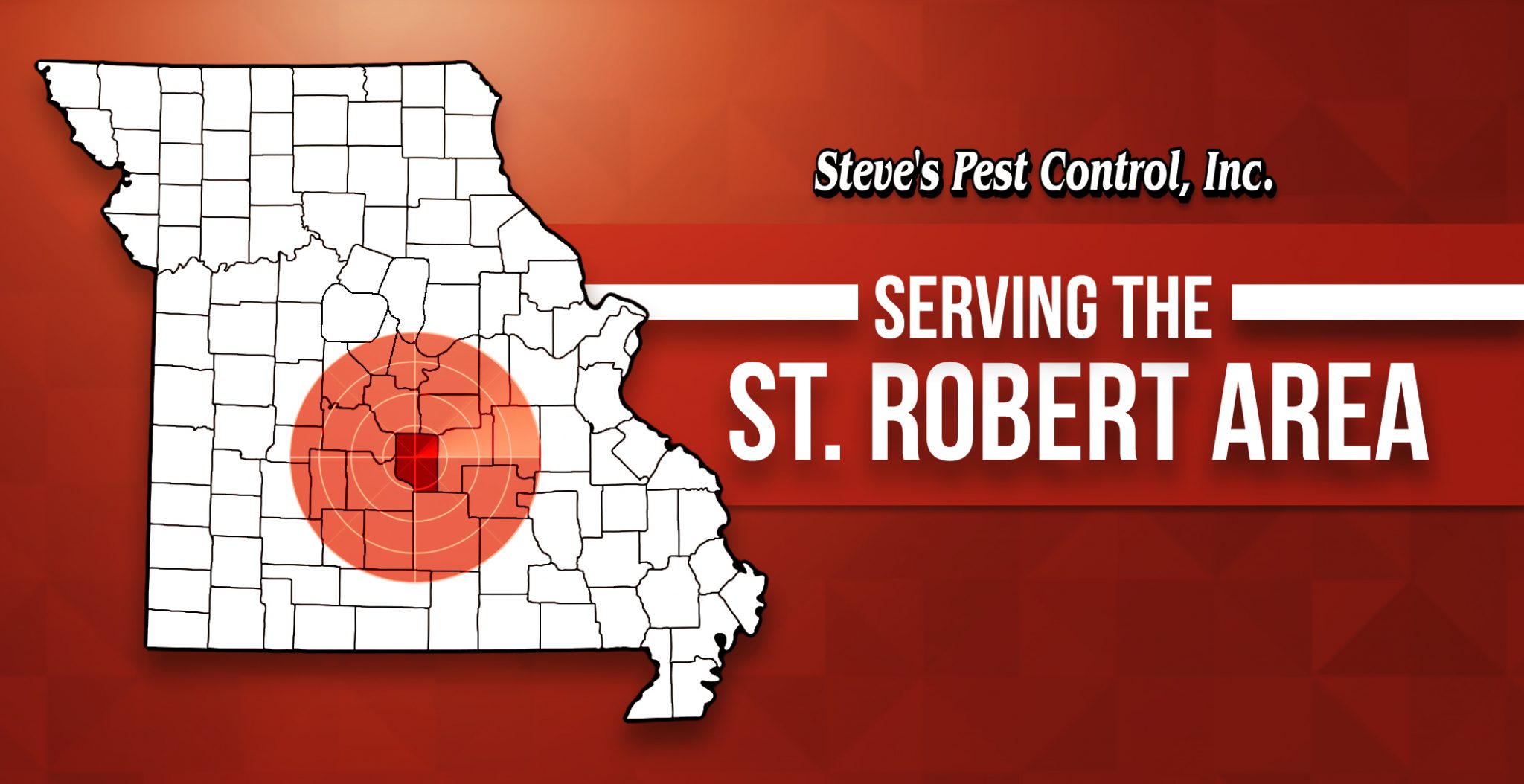 Residential Pest Control in Saint Robert, Mo
Protect Your Homes in St. Robert, MO from Bed Bugs and Termites with Help from Steve's Pest Control
Don't let pesky bugs invade your home. We pride ourselves in being the regional experts in removing cockroaches, ants, termites, stinging insects, mosquitoes, mice and other pests from your family's home. One of the most frustrating pests to remove is bed bugs. With heat treatment technology, Steve's can ensure bed bugs are eradicated and your home is back to only being preoccupied by you. 
Looking for a Bed Bug exterminator in St. Roberts, MO? Call Steve's Pest Control. We work to protect the health of your family and prevent damage to your home. Not sure if you have bed bugs, but want to be proactive? Our 5 Star Services keep pests from ever hitting the interior walls.
Commercial Pest Control in Saint Robert, Mo
Keep Your Mid-Missouri Business Safe from Termites, Bed Bugs and More with Steve's Pest Control.
Is your business crawling with unwanted customers? Call Steve's Pest Control in St. Robert, MO to protect your reputation and remove those pesky bugs. Whether you own a restaurant, bar, grocery store, hotel or motel, college campus facility, dormitory, daycare, warehouse, office or other business, Steve's Pest Control has worked in numerous industries and is looking to solve your pest problem. We offer a wide variety of commercial services, including fly control, German roach elimination, termite protection and more.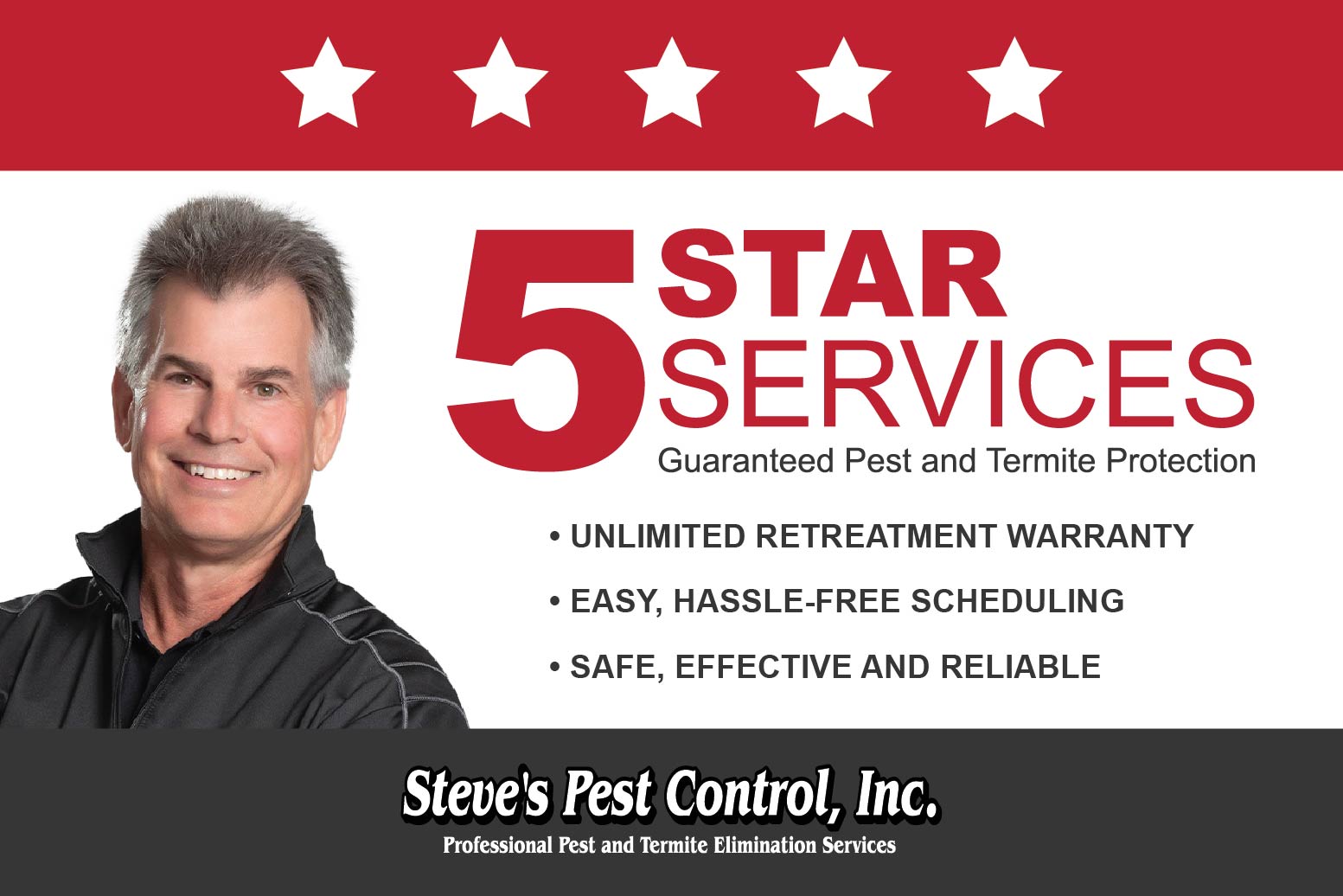 With termites causing destruction quickly, it is important not to hesitate. If you need a termite exterminator in St. Robert, MO give us a call! Don't let your business be affected by creepy crawlers, sign up for our commercial services today.
Pest Control Services Areas By Zip Code:
65584, 65457, 65550, 65529, 65461, 65473, 65583, 65534, 65556, 65452, 65459
Proudly Serving St. Robert, Mo And Surrounding Areas:
Devil's Elbow, Powellville, Jerome, Newburg, Flat, Spring Creek, Bloodland, Buckhorn, Laquey, Swedeborg, Crocker, and Dixon
Steve's Pest Control Saint Robert Area - Learn more!
Get a Free Pest Evaluation
Why Choose Steve's Pest Control?
Steve's Pest Control is dedicated to a certain level of excellence in all of our pest control services. We want each and every one of our customers to have the best experience with us possible. To ensure we do a good job every time, we practice the utmost care and professionalism with each and every pest control project we do.