Pest Control - Chesterfield, Mo
Pest Control Services in Chesterfield, Mo
Steve's Pest Control Hours & Location
Keep Your Home or Business Bug-Free with Pest Control Services from Steve's Pest Control in Chesterfield, Mo
Have you noticed creepy, crawly pests setting up residence in your Missouri home or business? Unwanted pests can negatively affect your health and damage your property! Luckily for you, Steve's Pest Control is eliminating pests in Chesterfield, Mo! Our well-trained experts can handle termites, bed bugs, rodents, and more! Put a stop to unwanted guests and call your friends in the pest control business, Steve's Pest Control!
Residential Pest Control to Protect Your Home from Ants, Bed Bugs, Rodents, & Termites in Chesterfield, Mo
Steve's Pest Control has proudly served Missouri residents since 1988. We are a family-owned and operated business specializing in residential pest control. Your family's needs are unique and should be addressed by an exterminator who understands the value of your time and money. If you have a pest control problem in Chesterfield, Mo, call Steve's Pest Control for a free pest evaluation today!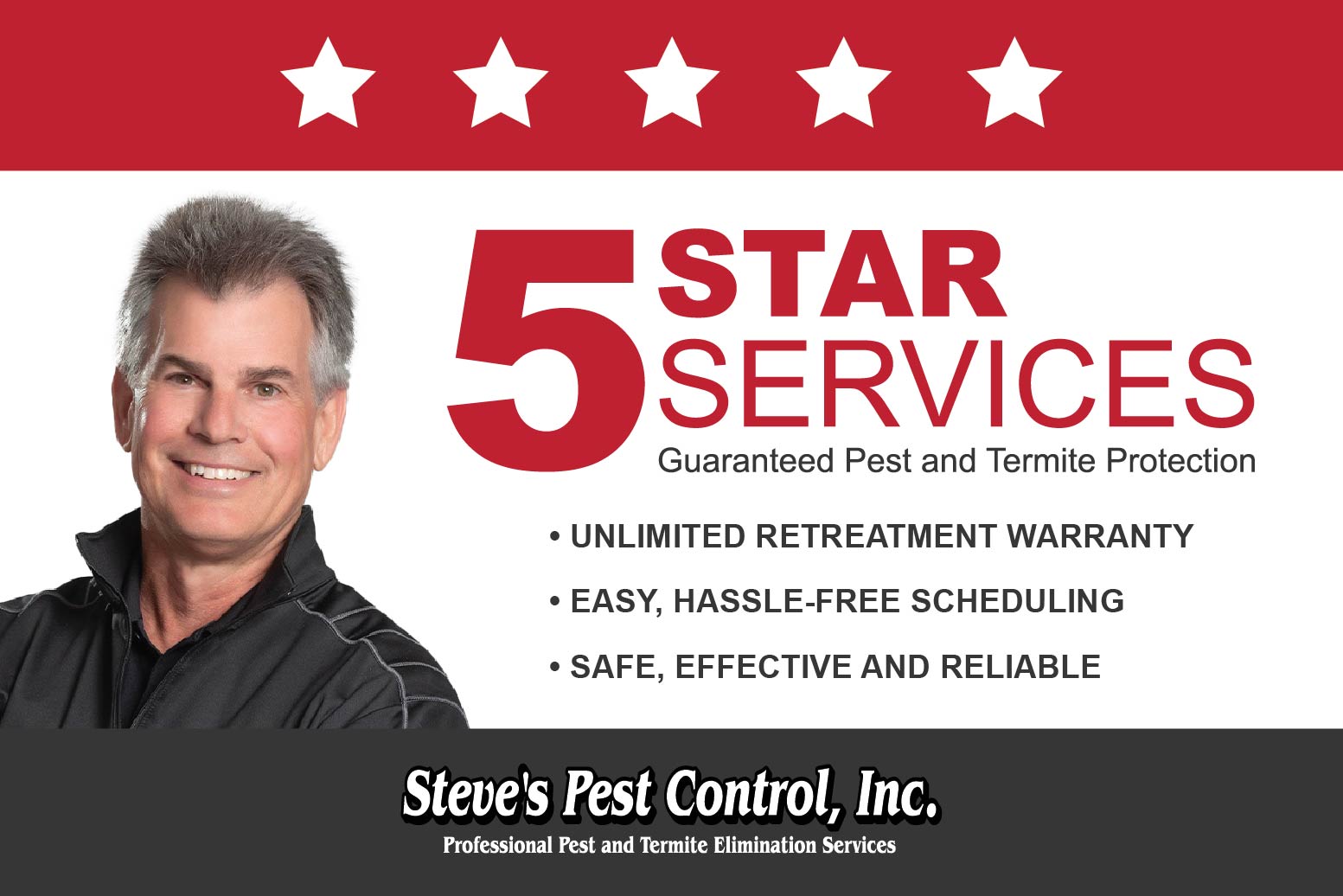 Meet the Commercial Pest Control Experts Who Can Handle Termites, Bed Bugs, Cockroaches, & Rodents Taking Over Your Chesterfield, Mo Business
Have you noticed unwanted pests wandering around your business? Take action and call Steve's Pest Control. We have helped business owners across a variety of industries eliminate pests in their offices, hotels, schools, daycares, factories, and more! Whether you need an effective termite treatment to protect your commercial property or a cockroach exterminator to get rid of unwanted restaurant guests, Steve's Pest Control is the team for you.
How To Identify Termites in Chesterfield, Mo
Termites are every home or business owner's nightmare. A small colony of termites can quickly overtake your property, causing a mind-boggling amount of damage both structurally and financially. To protect your home or business, you need to know how to identify evidence of termites. The first thing you can do is listen for their movements and communications in the walls. This will resemble a light tapping or buzzing sound. You can also test the wood in your home or business for signs of termite damage. Wood that has been eaten away by termites from the inside will feel soft on the outside. You may even see holes where termites have broken through. If you've noticed signs of termites in your Chesterfield, Mo home or business, call Steve's Pest Control right away! Termites move quickly and need to be treated as soon as possible.
How To Identify Bed Bugs in Chesterfield, Mo
Nobody likes a bed hog, and nothing takes over your bed quite like bed bugs. While you might think bed bugs are impossible to see, fully grown bed bugs are actually about the size of a sesame seed. If you can see seeds on your bagel, you can see bed bugs in your bed! Bed bugs are also known to give off a musky smell similar to mildew. They will leave small, rust-colored stains on your sheets which can increase in frequency near the corners of your mattress. You'll really know if you have bed bugs when they start biting, leaving itchy red bumps on your skin. These aren't your normal bug bites either. They will appear in patterns like lines because this is how bed bugs travel on your skin. If you notice any of these signs in your home, learn more about how you can handle bed bugs using our handy bed bug treatment plan guide.
Steve's Pest Control is Chesterfield, Mo's full-service Pest Control Company
Call today for your pest evaluation!
Pest Control Services Areas By Zip Code:
63005, 63006, 63011, 63017, 63021, 63022, 63024, 63025, 63026, 63038, 63040, 63043, 63049, 63069, 63088, 63099, 63119, 63122, 63127, 63131, 63132, 63141, 63144, 63146, 63303
Proudly Providing Pest Control Services in Chesterfield, MO and Surrounding Areas:
Ballwin, Clarkson Valley, Creve Coeur, Ellisville, Fenton, Kirkwood, Maryland Heights, Murphy, Town and Country, Twin Oaks, Valley Park, Webster Groves, Wildwood
Protect your Chesterfield, Mo home from destructive and disgusting pests. The sooner you act, the better! Call Steve's Pest Control to handle your pest problems, no matter the size or type.
Get a Free Pest Evaluation
Why Choose Steve's Pest Control?
Steve's Pest Control is dedicated to a certain level of excellence in all of our pest control services. We want each and every one of our customers to have the best experience with us possible. To ensure we do a good job every time, we practice the utmost care and professionalism with each and every pest control project we do.