Pest Control Services for Missouri Lakes
Do you have spiders on your dock? Call Steve's Pest Control today!
When it's time to soak up the sun, the last thing you want to worry about are creepy-crawlers all over your lake dock. Call Steve's Pest Control today for Steve's Lake Service! Our team of expert pest control technicians will make sure your dock is free of any pests, including those nasty spiders, so you can enjoy your time on the water - worry free!
At Steve's Pest Control, we believe the only thing with eight legs should be four friends on an intertube! Get rid of the spiders at your mid-Missouri lake house today.
Mid-Missouri's Premier Pest Control Service At The Lake!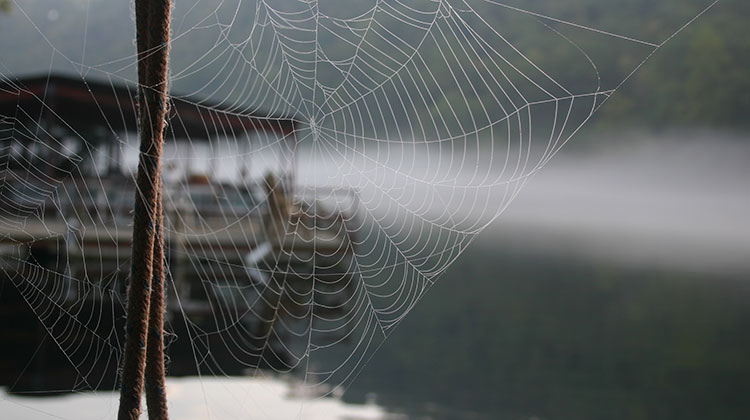 Steve's Lake Services are designed to ensure that you, your family, and your property are protected from invading pests primarily by focusing treatment on the exterior. By focusing services in this manner, we are able to stop problems before they have a chance to come inside. Depending on the service you choose, we give a 30 day to a year 'round unlimited retreatment warranty for "covered pests" at no additional charge!
Covered Pests Under Our Service Include: ants, beetles, box elder bugs, centipedes, clover mites, crickets, *mice, millipedes, pill bugs, roaches, scorpions, *spiders, springtails, wasps, and bees (within 10 feet of the building), etc. *Service is designed to reduce Long Jawed Spiders by 80-90%. *Mice are included with the Silver and Gold service only.
Please note: In order to add brown recluse spiders, silverfish, cluster flies, and lady beetles into our warranty, we will need to treat the building's attic and crawl space areas annually at an additional charge. Termite protection with The Sentricon system is available (at a discounted rate) for an additional charge.

Explanation and Benefits of Steve's Lake Services:
Initial treatment for the year includes the interior (unless denied)
All treatments are performed on the exterior of house, grounds, and dock (if present)
Spider webs and insect nests are removed (within reach) on each service if present
Pests are eliminated on the exterior before they enter the structure
Safer & more effective than continuous interior treatments
Easy hassle-free scheduling
$250,000 Termite Damage Warranty with The Sentricon System (if installed)
Unlimited Retreatment Warranty with 7 or more consecutive monthly services